Women's

Hybrid

Retreat

Connecticut - Dr Amb's Self-Care Self-Love

Retreat

(In-person & Virtual)
(See topics and speaker info at the bottom of the page)
What if you could get access to a group of heart-led expert Women's best tips all in one place?
So you're better able to deal with the busy season.
Do you remind yourself to take time for you and care for yourself a bit more before the Holidays?
𝗗𝗼 𝘆𝗼𝘂 𝗻𝗲𝗲𝗱 𝘁𝗼 𝘁𝗮𝗸𝗲 𝗮 𝗯𝗿𝗲𝗮𝗸 𝗳𝗼𝗿 𝗮 𝗳𝗲𝘄 𝗱𝗮𝘆𝘀 𝘁𝗼 𝗿𝗲𝗰𝗵𝗮𝗿𝗴𝗲?
𝐷𝑜 𝑦𝑜𝑢 𝑤𝑎𝑛𝑡 𝑡𝑜 𝑏𝑒 𝑎𝑡 𝑦𝑜𝑢𝑟 𝑏𝑒𝑠𝑡? 𝐼𝑓 𝑦𝑜𝑢 𝑑𝑜𝑛'𝑡 𝑡𝑎𝑘𝑒 𝑡𝑖𝑚𝑒 𝑡𝑜 𝑟𝑒𝑐ℎ𝑎𝑟𝑔𝑒 𝑦𝑜𝑢 𝑤𝑜𝑛'𝑡 𝑏𝑒!!
𝐈 𝐚𝐦 𝐬𝐨 𝐞𝐱𝐜𝐢𝐭𝐞𝐝 𝐭𝐨 𝐢𝐧𝐯𝐢𝐭𝐞 𝗬𝗢𝗨 𝐭𝐨 𝐚 𝐫𝐞𝐭𝐫𝐞𝐚𝐭 𝐭𝐨 𝐡𝐞𝐥𝐩 𝘆𝗼𝘂 𝗿𝗲𝗰𝗵𝗮𝗿𝗴𝗲 & 𝐈 𝐚𝐦 𝐨𝐧𝐞 𝐨𝐟 𝐭𝐡𝐞 𝗽𝐫𝐞𝐬𝐞𝐧𝐭𝐞𝐫𝐬.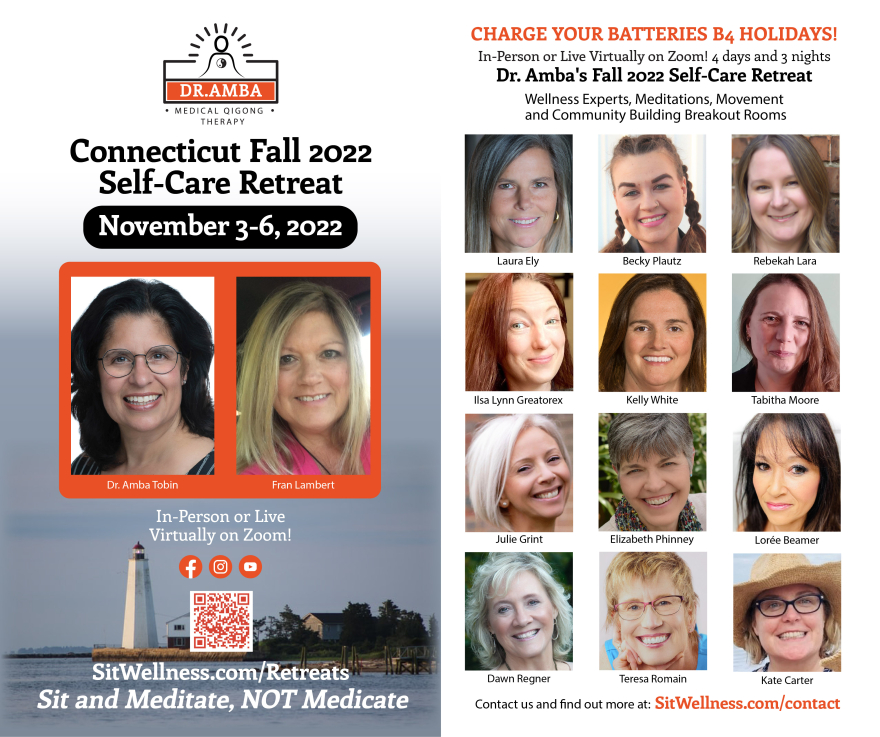 𝐓𝐡𝐢𝐬 𝐢𝐬 𝐚 𝐇𝐲𝐛𝐫𝐢𝐝 𝐞𝐯𝐞𝐧𝐭: 𝐋𝐢𝐯𝐞 & 𝐢𝐧-𝐩𝐞𝐫𝐬𝐨𝐧. 𝐍𝐨𝐯 𝟑𝐫𝐝 𝐭𝐨 𝟔𝐭𝐡
November 3rd -Thursday 5pm to 7pm Eastern Time, November 4th - Friday 10am to Noon (4 hour break) and 4pm to 6pm
November 5th - Saturday 10am to Noon (4 hour break) and 4pm to 6pm, November 6th - Sunday 10am to Noon
Live in Connecticut-and Virtual from anywhere, we are having every hour full of Breakout rooms sprinkled with Speakers --in this Community Building Women's Wellness Retreat. In total there are 13 Wellness Expert speakers . The entire weekend there are 6 segments of 2 hours each over 4 days. Only Friday and Saturday have 2 segments.
Each 2 hour Segment includes 3 speakers and an 4 break out rooms.
If You cannot make all the 6 segments- We got you Covered. You will get all the replays in your mailbox.
You will also be able to friend Dr. Amba www.facebook.com/amba.tobin and then get invited into her private Facebook group.
In that group, we will have Facebook LIVES from Old Lyme, Connecticut where the in-Person Ladies will be doing the excursions part of the retreat---so you can be a part of the retreat when we are off Zoom. In Person, They will have a bonfire on the beach, hikes on the 13 acre property and fun in Old Lyme shops....If you can come in person for a day, or all 3 nights- www.sitwellness.com/retreats has all the info.
Including a video of the location and information about Dr Amba one or our expert speakers.
In Person Thursday to Sunday-PRIVATE ROOM- all expenses paid but travel *Arriving Thursday by air- will be picked up from Providence, RI & Returned to Airport https://tinyurl.com/PrivateRoomRetreat